© Mallow-Fondant.Com All Rights Reserved 2012


How to Apply Fondant
Step by Step Instructions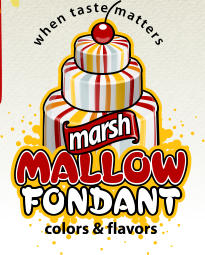 View More
"How To" Fondant Videos
How To Apply Marshmallow Fondant Video
Knowing how to apply fondant is one of the most important skills you
can have in your knowledge base. Starting with a good smooth fondant
surface will help with the decorating appearance and lessen the amount
of time having to cover up boo-boos. Best results are realized when your
fondant has set up for a day or so to properly cure after made, well
kneaded, and r
olled to 1/4 inch thickness.

We mail your order the day it is made

so it sets up in the mail during transit. Start by

warming and kneading your fondant thoroughly. Working with well kneaded fondant is so much
easier. All you need is a smooth work surface, corn starch, rolling pin, cured fondant, some elbow
grease, and a cake to cover. Knead and store any leftovers in a sealed container or bag for later
use. Watch the step by step instructions or the video below to see how to apply fondant in action!